- It's awesome! . . .
- It's amazing! . . .
- It's spectacular! . . .
Generic Seed Hearts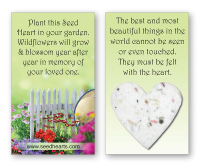 Plant these seed hearts in memory of your loved one and wild flowers will grow. Front has poem above seed heart. Back has planting instructions. Also available as part of box set.
Custom Seed Hearts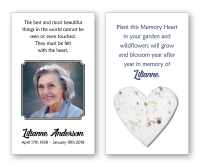 These customized seed hearts are available with your logo and web address on the back.
Great for re-orders!
Available in quantities of 100, 250, 500 or 1000.
Seed Cards
The comfort card insert can be customized with your logo on the inside, below the message and your web address on back of card. Plant the outside portion of this card and wildflowers will grow.